The director manages to make a very interesting psychological thriller, but whose terrible strong resonance due to the spectacular overthrow of the project there. The director skillfully manages to "seduce" the viewer by focusing almost exclusively in the interest of relations between the child and the doctor.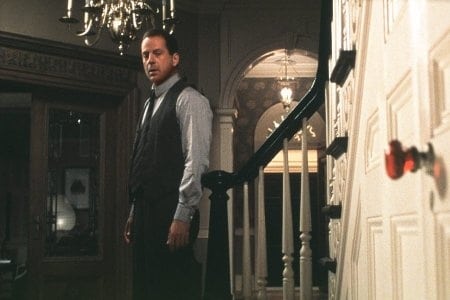 In the film we see two seemingly contradictory but essentially the same characters. On the one hand the amazing Haley Joel Osment as the frightened and isolated children and the other the equally reclusive psychiatrist (excellent and unconventional "macho" role of Bruce Wills ) who tries to bring the children to eliminate his own remorse. The Shymalan manages to make quite an evocative atmosphere, without relying hardly a splatter effect.
The Sixth Sense was the film that in 1999 made all the spectators after the unexpected finale, wondering how and try to link all the pieces in their mind. It was the film that was discussed but little else and has made a new star who unfortunately lost somewhere along the way, that the kid then Osment. The Shyamalan overnight became the largest and most promising names in the field of direction, ambition, unfortunately not maintained over time. As to 'Anyway, how many years go by, many times to see it, even though most of the element of surprise is lost, can not deny that this is one of the smarter, more cleverly, more creative ghost stories taken place in cinematic cloth.